Everything you need to know about:
IELTS test dates in 2022
where to find test date information
a step by step guide to choosing the right date and booking your test.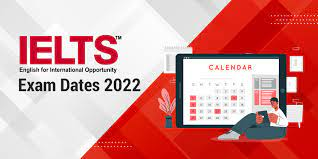 IELTS is often described as the doorway to some of the best universities globally, and millions of students all around the world take the exam every year. Whether you are planning to study in countries such as Australia and New Zealand, the USA and Canada or the UK, IELTS can help get you there. The IELTS exam dates are available throughout the year, and students can take the test whenever they are ready. The IELTS test dates 2022 are out, and students can take the test based on their suitability. It needs at least a two-three month window to prepare for the exam and get a good score. Students can take guidance from experts and institutes about the nature of the exam as it will help them get good scores without much delay.
IELTS test date booking is an easy task, and a student can book it after paying the registration fee to the test provider.
Important News – From 25 July 2022, the British Council will no longer deliver IELTS tests in India. All IELTS tests in India will be delivered by IDP.
An IELTS test on the computer can be booked with IDP from 25 July onwards.
IELTS Exam Dates at IDP 2022 (IELTS Test Calendar)
Generally, there are four IELTS exam dates in a month for Academic IELTS whereas General Training IELTS Exam is conducted at least twice a month. Candidates can choose any date from the listed IELTS exam dates and can choose any location out of specified 55 varied test centres.
IELTS exam dates are available throughout the year, so you can choose the timing of your IELTS exam according to your needs. The IELTS test centres function on a first-come-first-serve basis, so it is important to book your dates as soon as possible. During the high season, tests can fill up one month in advance so registering for the IELTS date early is a very important task. The computer-delivered IELTS test is available up to 3 times a day on 7 days a week. Candidates can get their results in 2-5 days after giving the test. Apart from this, the paper-based IELTS test is also available up to four times a month.
IELTS Listening, Reading, and Writing tests take place on the same day whereas either the IELTS Speaking test is conducted 7 days before or 7 days after your test date. Also, it can happen that the IELTS test date may not be the same near your IELTS test location as it is in another city. IELTS exam dates also vary between centres.
Steps to book IELTS Exam Dates and Location
Candidates who are looking to book their required test centre and IELTS Dates Candidates are required to do the following:
Visit the British council or IDP official website and click on Register
Click on 'Find Test Date' and enter the month, city, and module of choice
You will be then redirected to the IELTS Application: Check Test Availability page
Candidates are required to select the desired date and click 'Apply'
Computer-based IELTS exam Test Dates Availability
Computer-delivered IELTS test sessions for both Academic and General Training are now available in 16 cities with a range of IELTS exam dates:
Ahmedabad
Chennai
Kochi
Amritsar
Coimbatore
Mumbai
Bangalore
Delhi
Pune
Baroda
Gurgaon
Surat
Chandigarh
Hyderabad
Vadodara
Vijayawada
IDP IELTS Exam Dates 2022
Due to the high demand of students wanting to travel abroad for further education and requiring an IELTS, IDP IELTS India is conducting the IELTS Computer-Based Exam all throughout the months of July and August (with the exception of August 15, 2022) in Tier 1 cities. Candidates are required to check the official IDP IELTS India website to choose from the available dates keeping their college registration in mind. Candidates who opt for the pen-paper module of the exam need to check the select dates on which the IELTS exam is available on the official website.
British Council IELTS exam dates 2022
The British Council is another widely accepted institution that administers the IELTS examination to candidates looking to travel abroad for further education. Candidates can check out the available IELTS General and IELTS Academic Test Dates available across various major cities across the length and breadth of the country. The computer-based module of the IELTS Exam is being conducted all throughout July and August for the benefit of candidates by the British Council. However, candidates who are opting for the pen-paper module need to check the official website of the British Council for available dates up to 25th July 2022.
Good luck with your test, IELTS podcast is here to help you every step of the way!