Here on IELTS Podcast, you will find useful IELTS Academic writing task 1 tips, tutorials, sample essay questions and answers to help you prepare for your Academic task 1 exam.
How much time should I spend on IELTS writing task 1 in the IELTS test?
The IELTS writing exam is divided into two sections. You have an hour to write both. Since task 1 makes up 33% of the test you should plan to spend 20 minutes on this section to ensure that you make effective use of your time.
IELTS Task 1 Marking criteria
Task 1 is marked according to the following:
IELTS Graphs, Charts or Diagrams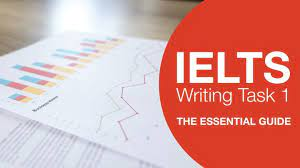 Academic writing task 1 requires that you summarise and compare a diagram, chart or graph, talking about the main features.
You should use at least 150 words for the task. This section is not an essay. It is a summary. You should use formal language and it must factual.
Academic writing task 1 is a report on a bar chart, pie chart, table, map diagram or process. Below we have tutorials, guiding you on how to answer the different task 1 questions.
Summarise and Compare
Read the question carefully. Academic writing task 1 may contain two to three charts which may be a line graph, a table, a pie chart, a map, a diagram or a bar chart. To do well in this task you need to take a general overview of the task.
A good description will look at trends, at highs and lows and at the times that these occurred – beginnings and endings in other words. You need to describe the key features and changes in the graphs. That means just talk about the main features and don't try to describe everything! A great tip is to use superlatives. For example:
The most expensive item was…
The largest amount spent was…
The lowest point was…
Another useful tip for IELTS writing task 1 is to find things that were the same or similar, then contrast them with what was different. For example,
'Sales of both sugar and salt increased during the period shown, reaching their highest prices in November. In contrast, sales of coffee fluctuated significantly.'
The Process
Start off by looking at the graphs to determine what you need to summarise and compare. Write an introduction of one to two sentences. Then offer a general overview, describing trends. The next paragraphs should get into the specifics, grouping your information according to the main features and then describing each of them.
Always bear in mind that this is a test of your English-speaking abilities. Use the appropriate vocabulary. Try to showcase as much of your vocabulary as possible and make sure that your English grammar is immaculate. Write at least 150 words – this cannot include copying any of the information from the question word for word. Paraphrasing several words in a sentence is fine.
Preparing for the Exam
The best way to prepare for the exam is to get plenty of practice beforehand. First, look at some excellent essay examples for writing task 1. There are quite a few useful links at the end of this article. Find a style or model you like and try to use some of the same phrases to describe a similar diagram, remembering to write at least 150 words. Try your hand at describing and comparing various diagrams and graphs. Send them in for an evaluation and learn from the outcomes.
Useful links to help you prepare for academic task 1:
Frequently Asked Questions
Which articles should I read first?
We are here to help! There are lots of articles that can give you help and tips for specific IELTS writing task 1 types, and also more general information about writing task 1.
Make sure you don't look at General Training articles though, because writing task 1 for General Training will not be the same.
Here are some of our favourites:
Sample IELTS Writing task 1 Questions and Essays