Understanding your IELTS reading score.
Make sure you check your answers based on the correct calculator – the scores will be different depending on which test you take, IELTS Academic or IELTS General Training.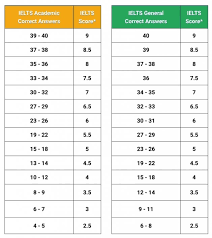 IELTS scoring in detail
The Test Report Form provides your overall band score and band scores for each of the four sections: Listening, Reading, Writing and Speaking.
Overall band score
The overall band score is the average of the four sections' scores, rounded to the nearest whole or half band. The section scores are weighted equally.
Some examples:
Listening, Reading, Writing, Speaking, Average of four components, Total final score
Band score Test taker A 6.5 6.5 5.0 7.0 Average 6.25 (final score: 6.5)
Test taker B 4.0 3.5 4.0 4.0 Average 3.875 (final score: 4.0)
Test Taker C 6.5 6.5 5.5 6.0 Average 6.125 (final score 6.0)
NOTE – If the average of the four sections ends in .25, the overall band score is rounded up to the next half band, and if it ends in .75, the overall band score is rounded up to the next whole band.
You can find free IELTS READING practice tests here.
Section band scores for reading
Reading
The IELTS Reading test contains 40 questions. Each correct answer is awarded one mark. Scores out of 40 are converted to the IELTS nine-band scale. Scores are reported in whole and half bands (use our IELTS band score calculator).
The Academic and General Training Reading tests are graded on the same scale. The distinction between the two tests is one of genre or text type. However, Academic Reading tests may contain texts which feature more difficult vocabulary or greater complexity of style. A greater number of questions must be answered correctly on a General Training Reading test to secure a given band score.
Make sure you have read all the information about your test very carefully.
How is the IELTS Reading Test scored?
It's important to understand the Reading pattern for both types of IELTS tests that is Academic or General Training as both are quite different from one another.
Although the types of questions remain the same for both types of tests. That is T/F/NG, Gap fillings, question/Answer, MCQs, Match the columns, List of headings, sentence completion), the text types will be different.
In reading-Academic generally, 3 Passages are given from professional and academic journals, textbooks, relevant magazines, documentaries and newspapers.
In contrast, General Training Reading contains 3 sections. The first two are divided further into two parts and the texts are generally based on advertisements, guidebooks, magazines, notices or employee manuals.
Reading Answers are recommended to be transferred simultaneously because no additional time is allotted for transferring the answers, unlike the listening test.
Later, after checking the answers for the reading modules raw scores are generated, and then these are matched with the corresponding IELTS bands ranging from 0 to 9.
Skill levels for each IELTS band are very precise so it's a good idea to understand the level you are aiming for and leave plenty of time to prepare for it.